Specialty of the house "Moquecas" is a stew made with a fish fillet "Abadejo"(similar to grouper) and shrimps, cooked in a special clay pot with palm oil, coconut milk and our chef special touch that makes its flavour unforgettable.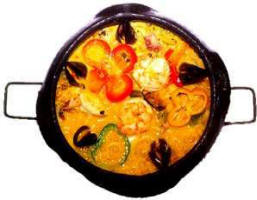 Another specialty of the house is fish fillet "A VALENÇA" grilled "Abadejo" with calamari,mushroom,black olive, red pepper, special spices and other secrets from our Chef.
Served with sautée potatoes.